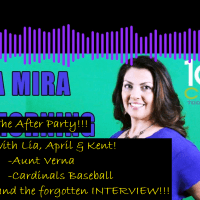 Three morning radio hosts get together to decompress after their shows for a quick after-show conversation!  Come along and watch the video with Lia Mira, Kent in the Country on Z100 and Magic Mornings with April on Magic 95.1!
Enjoy some laughs while they enjoy these topics:
-Aunt Verna and her admiration for Saluki Athletics, "Coach Jerry"
-Southern Illinois Appreciation
-St. Louis Opening Ceremonies sneak peaks
-A phone call from Karly Moreno of The Voice!