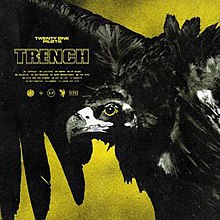 For the first time in almost four years, the world has a new Twenty One Pilots album.  The duo released their third studio album, Trench, over the weekend.
Before winning a Grammy and being featured in major motion pictures, Tyler Joseph and Josh Dun released two albums in 2009 and 2011 (Twenty One Pilots & Regional At Best).  They quickly developed a devoted following for their unique sound and impressive live performances.
In 2012, the duo signed with Fueled By Ramen, the label that also signed Fall Out Boy, Panic! At the Disco & Paramore to name a few.
Twenty One Pilots then released their label debut, Vessel, in 2013.  While the group still had a small army of fans, it wasn't until 2015 that the duo hit the mainstream.
In 2015, they released their second studio album, Blurryface, which was headlined by the singles "Ride" and "Stressed Out" with the latter peaking at number two on the Billboard Hot 100 charts.
The album also debuted at number one on the Billboard Top 200 charts.  Following the success from this album, the duo recorded another hit song, "Heathens", for the Suicide Squad soundtrack.
The past few years have been an exciting one for Joseph and Dun as the group has racked up 31 different awards, including a 2017 Grammy win, and 93 different nominations.
Even though it took almost four years, Trench was definitely worth the wait and it shows that Joseph and Dun haven't skipped a beat and are here to stay.
Bio
Names: Tyler Joseph & Josh Dun
From: Columbus, Ohio
Years Active: 2009-Present
Albums: Trench (2018), Blurryface (2015), Vessel (2013), Regional At Best (2011), Twenty One Pilots (2009)
Notable Awards: 1 Grammy win, 2 American Music Awards, 7 Billboard Music Awards, 6 iHeartRadio Music Awards
Notable Songs: "Stressed Out", "Ride", "Heathens", "Jumpsuit"