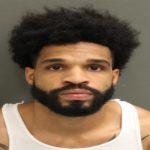 MURPHYSBORO, Ill. (WJPF) – A Carbondale man has been found guilty of first degree murder.
Devale Johnson, 25, is one of three men charged in the August 2020 death of Jamonte Allison. Police said the 44-year-old Allison was shot to death at a home in the 1000 block of North Robert A Stalls Avenue as the result of an ongoing dispute.
Devale Johnson pleaded not guilty to three counts of first degree murder and one count of aggravated discharge of a firearm. He was convicted after a jury trial and faces up to life in prison.
Two other men, Victor Purdiman, 32, of Paducah, and Micah Williams, 25, of Centralia have pleaded guilty to their involvement in Allison's death. All three men are awaiting sentencing.