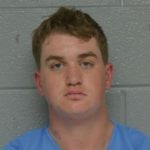 MURRAY, Ky. (WJPF) – A 19-year-old has been arrested for throwing a Molotov cocktail at a group of students on Murray State University Campus.
Kentucky State Police say Jack Epperson threw the homemade explosive Saturday morning at a group of young women who were gathered near a housing complex. None of the women were hurt, but Epperson burned his own hands while throwing the flaming bottle.
Epperson was treated at a local hospital and then taken to jail on two counts of first degree attempted assault and one count of possession of a destructive device.