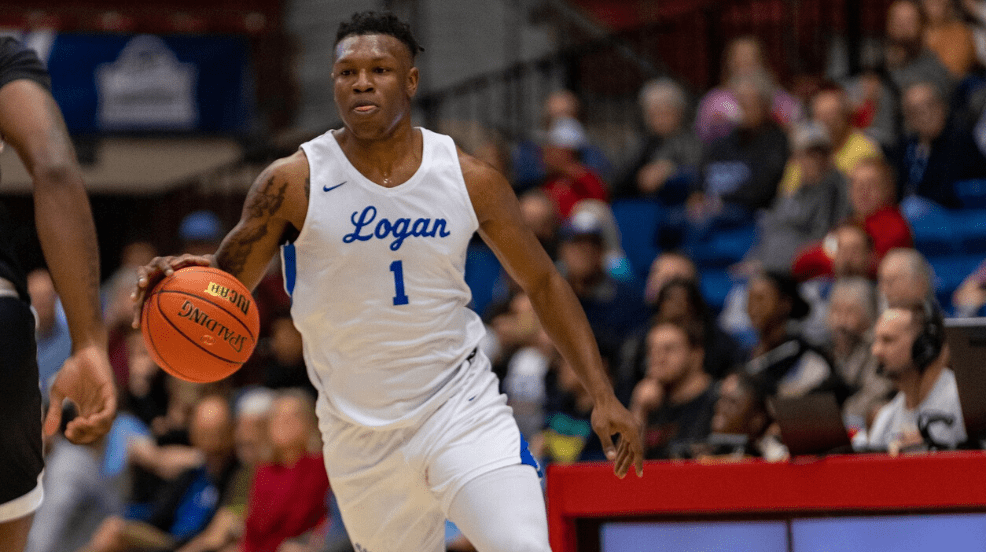 Charlotte, NC – John A. Logan's Curt Lewis has been named the 2022-23 NJCAA DI Men's Basketball Player of the Year.
Head Coach Tyler Smithpeters on Lewis- "Curt is very deserving of this honor, he bet on himself going the Junior College route. The hard work and dedication he has for the game does not go unnoticed. He never faulted when things got hard, he persevered and kept working toward our team goals. He is a winner on and off the court. We at Logan are thrilled for Curt and his family and are very excited for his future."
The sophomore guard posted 502 points, 81 steals, 37 blocks, 214 rebounds, and 132 assists in the 2022-23 season. Lewis recorded a season-high of 27 points in the 2023 NJCAA DI Men's Basketball Championship Semifinals against Tallahassee. In the 2023 NJCAA DI Men's Basketball National Championship title game, Lewis led the offense with 18 points. He also had seven rebounds, two steals, and a block to help lead the Volunteers to a national title.
Assistant Coach Tadd Andrews on Lewis- "Not only can Curt really score and defend, but he is a phenomenal person off the court which translates to his leadership skills on the court. He never had an ego. Curt came in every day and competed, but was never selfish. That's Curt's gift – it's never only about him. He's always including others and making them feel special. That is why he was such an amazing leader to the team, because his selflessness and devotion became contagious! His ability to lead is what sets him apart in order to receive this prestigious award as well as leading his team to win a National Championship."
Lewis transferred to John A. Logan after spending two seasons at Eastern Kentucky University. While at EKU, Lewis averaged 10.4 points per game, 1.6 assists per game, and 5.2 rebounds per game. Aftering coming to John A. Logan, he upped all of his averages. After 35 starts in all 35 games, Lewis averaged 14.3 points per game, 3.8 assists per game, and 6.1 rebounds per game.
Assistant Coach Marcus Walker on Lewis- "When he arrived on the JALC campus his impact began immediately! The leadership skills he showed on and off the court daily separated him from his peers in a good way! Mr.Lewis scored in double figures in 27 of 35 games.
On top of ending his season as an NJCAA National Champion, Lewis was named to the National Championship All-Tournament team and was chosen for the 2023 NJCAA DI Men's Basketball First-Team All-America team.
Athletic Director Greg Starrick on Lewis- "Curt Lewis has been a team leader since he stepped on campus. He had clutch performances throughout the season when his team needed him most. But what I admired most about Kurt was his willingness to always put the team first.  Winning a Championship was always more important to him than individual honors."- Greg Starrick
Lewis will be continuing his academic and collegiate athletic career at the University of Missouri for the 2023-24 season.
This press release first featured on NJCAA.org