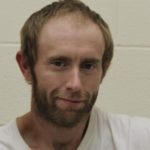 FRANKLIN COUNTY, Ill. (WJPF) – A Franklin County man has been arrested for stealing a tractor from a cemetery.
According to the Franklin County Sheriff's Office, Darren Johnson, 32, of West City, broke into a shed at the Masonic and Odd Fellows Cemetery Monday morning and took a tractor that was inside.
Darren Johnson was arrested later in the day. He faces a charge of theft over $10,000. At the time of his arrest, police say Johnson also had an outstanding Franklin County warrant for theft. He was taken to the Franklin County Jail.