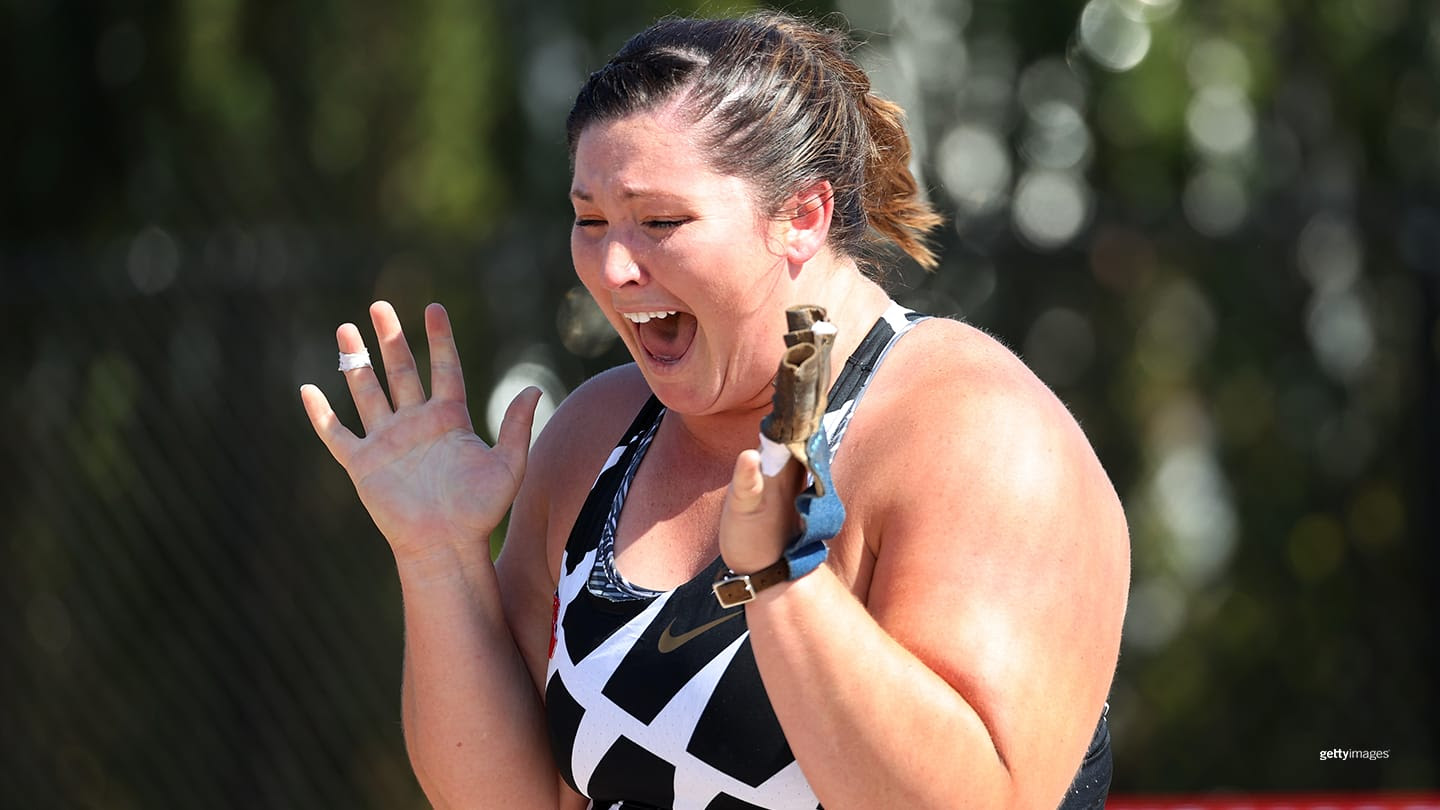 Saluki alums DeAnna Price and Gwen Berry qualified for the 2020 Olympic Games in the hammer throw Saturday. Price re-broke her own American record and became just the second woman to throw over 80-meters to win gold while Berry took home bronze. Price and Berry will again be Team USA teammates after having done so at the 2016 Olympic Games.
Price was outstanding Saturday. All five of her legal marks would have won the competition, and her toss of 263′-6″ (80.31m) on her fifth throw put her in rarefied air. She became just the second woman ever to throw the 8.8-pound ball-and-chain over 80 meters, joining world-record holder Anita Wlodarczyk of Poland as the only females to accomplish the feat. Price, who broke the U.S. Olympic Trial record on Thursday with her mark of 252′-11″, re-broke that record on each of her five marks on Saturday.
Price's gold medal at the Olympic Trials caps off an impressive run by the Moscow Mills, Mo. native. In 2019, she successfully defended her USATF title with a then American record toss of 256′-8″ (78.24m). She then won a World Championship in the hammer in Doha, Qatar on Sept. 28, 2019 to become the first medalist for Team USA in the event, men or women, on the world championship stage. On April 9, in her home state of Missouri, Price threw 257′-10″ (78.60m) to shatter her American record and move up to third on the all-time hammer throw rankings. On Saturday, Price again broke her own American record and moved into second all-time.
Berry battled through adversity to make her second-straight Olympic team. The Ferguson, Mo. native got her first throw in at 241′-2″ (73.50m) but was unable to improve upon that mark in her final five attempts. It, however, wasn't necessary, as fourth-place finisher Janee Kassanavoid threw 240′-11″ (73.45m) on her second attempt but could get no closer. The 2019 Pan American Gold Medalist will look to make the finals at the Tokyo Olympics after she missed doing so in Rio.
The 2020 Tokyo Olympic Games will get underway with the Opening Ceremonies on July 23. The track and field portion of the games begin on July 30.