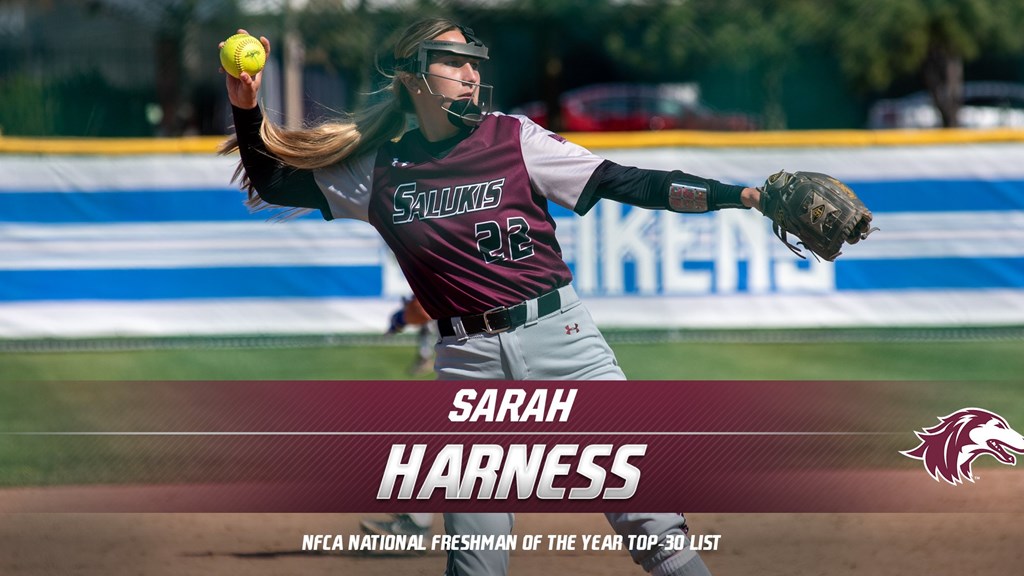 LOUISVILLE, Ky. – Southern Illinois' Sarah Harness was named one of 30 finalists for the 2021 Schutt Sports/NFCA Division I National Freshman of the Year award, the National Fastpitch Coaches Association announced Thursday.
With the cancellation of last year's season, this year's finalist list consists of both 2020 and 2021 freshmen. Harness is the lone finalist from the Missouri Valley Conference. The list will be narrowed down to a top-10 on May 13 and a top-three will be announced prior to the Women's College World Series on May 27.
Harness has been superb in the circle since her arrival at SIU prior to the 2020 season, as she has amassed a 26-8 record with four saves and a 1.72 earned run average. She's held opponents to a .226 batting average in 215.1 innings of work and has an astounding 5.75 strikeout-to-walk-ratio. She's been named the MVC Pitcher of the Week six times, which is tied for the 15th-most in MVC history.
The Bowling Green, Mo. native currently ranks in the top-3 of the MVC in nearly every pitching statistic. She leads the MVC in wins (17) and walks allowed per seven innings (1.32), is second in earned run average (1.62), strikeout-to-walk ratio (5.89) and is third in strikeouts (159).
Additionally, Harness ranks 12th nationally in victories and her 17 wins are the third-most of any underclassmen in the nation.
The full Top-30 list can be found here.
Southern is back at Charlotte West Stadium this weekend when it hosts Valparaiso. First pitch of Saturday's doubleheader is set for 2 p.m.