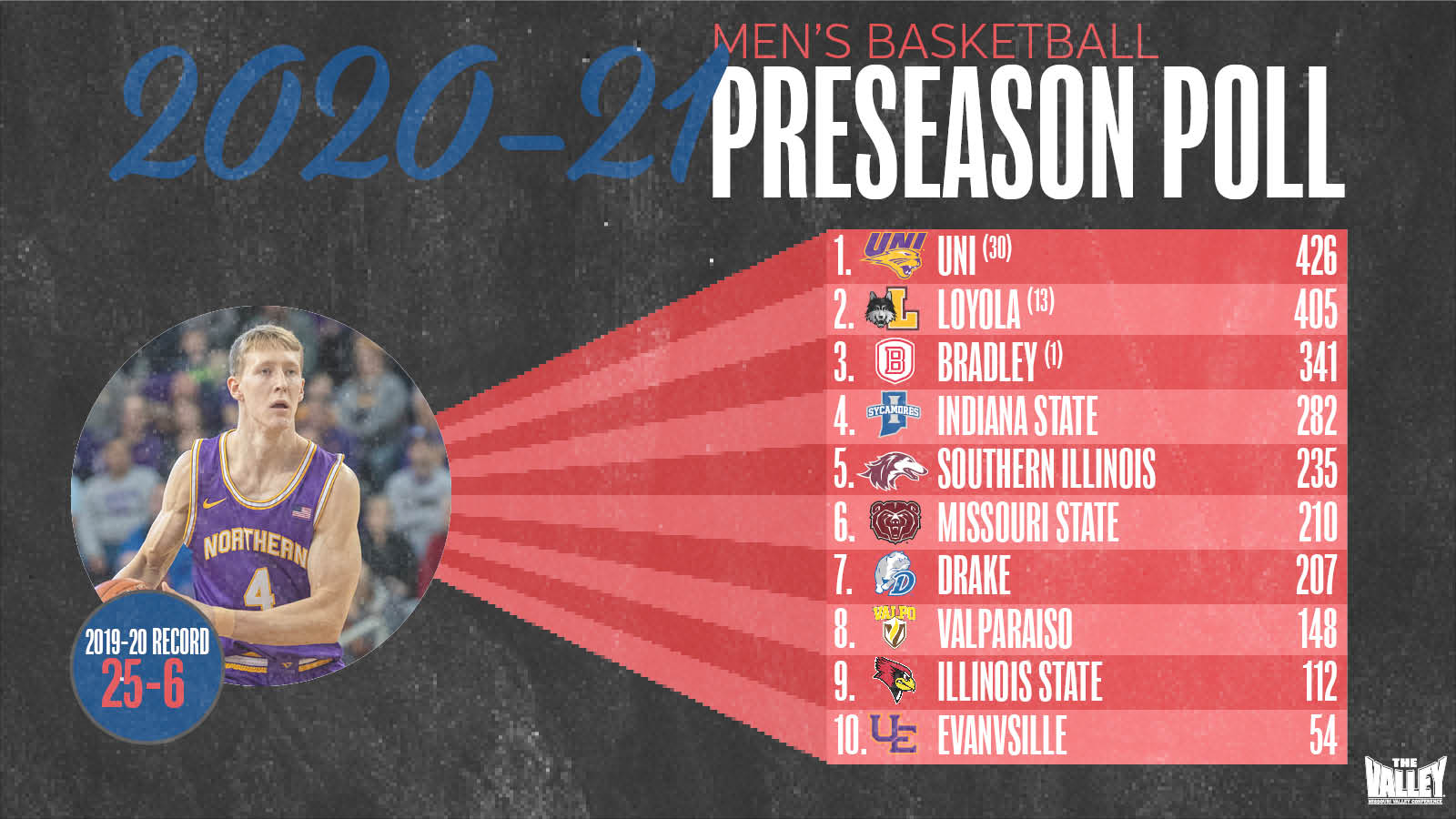 ST. LOUIS — For the first time in 11 seasons, UNI has been picked as the preseason favorite in the Missouri Valley Conference men's basketball race by a voting panel consisting of coaches, sports information directors and media.
UNI, the defending MVC regular-season champion, was last picked to win the MVC in 2009-10, and the Panthers didn't disappoint that season, earning a regular-season title with a 15-3 mark.  The Panthers also won the State Farm MVC Tournament that year and then advanced to the Sweet 16 with wins over UNLV and the tournament's No. 1 overall seed Kansas.  Although the Panthers have not been picked to win The Valley since that historic 2009-10 season, it should be noted that UNI has been picked in the league's upper division every year since, earning NCAA Tournament berths in 2015 and 2016.
With a strong group of returning student-athletes and an impressive crop of incoming talent, the league is in a great position to repeat the success of the 2019-20 campaign, which saw as many as six league teams in line for post-season bids before the COVID-19 pandemic forced the cancellation of all post-season events last March.
If last year's Arch Madness tournament — the 30th-straight rendition in the city of St. Louis — is any indication, we can expect a wild and competitive season in 2020-21.
The 2020 State Farm MVC Tournament (one of just 12 NCAA DI conference tournaments completed last March) was the maddest one on record as for the first time in league history the top seed (UNI) and No. 2 seed (Loyola) lost their first games. Drake became the first No. 8 seed to beat a No. 1 seed, and Valpo became the first league team to reach the State Farm MVC Championship game after playing on Thursday night's opening round.
Bradley — picked third in this year's poll — won its second-straight MVC Tournament, marking the first time the Braves had won back-to-back league tournament titles.  The Braves join eight others who have defended their MVC Tournament crowns, last accomplished by UNI (2015-2016).  Bradley also qualified for the NCAA Tournament in back-to-back seasons for only the second time in its history and the first time since 1954 and 1955.
The 2019-20 MVC men's basketball season marked a resurgence for the nation's second oldest Division I athletics conference as the Missouri Valley Conference finished 11th in the NET rankings as a league, moving up three spots from 2018-19.  Notably, eight of the league's 10 schools were 162 or better in the final NET rankings. Only three league schools were 162 or better in 2018-19. Led by UNI's league-best 48 NET ranking last year, five league schools had final NET figures that were better than the league leader in 2018-19 (Loyola was 131 that season.)
Collectively, the league won 71.1 percent of the time at home during league play last season (after winning 90.2 percent of its home games in non-league play). That 71.1 percent winning percentage matches the best in the MVC since 1999-00, and it was the best in the NCAA.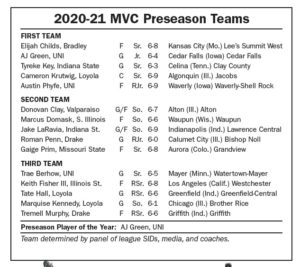 Loyola — the league's second choice in this year's poll — is led by one of four returning first-team all-MVC selections in Cameron Krutwig.  Last year, he became the first player in the storied history of the MVC to finish a season ranked in the top five in the league in scoring (5th- 15.1), rebounding (2nd- 8.1), assists (3rd- 4.2) and field goal percentage (3rd- .563).  With 22 points, 10 rebounds and 10 assists in a 78-70 victory over Vanderbilt, he became the first Valley center to record a triple double since 1989.
Austin Phyfe and AJ Green of UNI were also repeat first-team picks.  Last year, Green became just the third sophomore to earn the Larry Bird Trophy, presented to the MVC men's basketball Player of the Year.  Green and Phyfe — also a sophomore last year — became the first pair of sophomore teammates to earn selection to the league's first-team unit since Ron Baker and Fred VanVleet of Wichita State did it in 2014.
Notably, Green led the league in scoring with his 19.7 average. After scoring the fifth-most points by an MVC freshman in league history in 2019, Green had 610 points this past year and cracked the league's Top 10 for points for an MVC sophomore.
Phyfe, meanwhile, led the league in rebounding and field goal shooting, connecting on 67.1 percent of his tries last year.
Tyreke Key of Indiana State also was a first-team all-MVC selection a year ago after averaging a team-high 15.6 points per contest. The fourth-fastest player to join the 1,000-point club in program history, Key sits 16th all time with 1,255 career points scored with a chance to jump into the top-10 — needing just 200 points.
The final member of this year's first-team unit is from two-time defending tournament champion Bradley.  The 2019 MVC Tournament Most Outstanding Player, Elijah Childs missed 12 games with an injury last season but still earned second-team all-conference accolades after averaging 14.8 points and 8.7 rebounds per game. He enters his final campaign on campus ranked fifth in school history in career blocks, 14th in career rebounds and 48th in career points.
SOUTHERN ILLINOIS
Two Saluki newcomers led the team as true freshmen last year. Marcus Domask was named the league's Newcomer and Freshman of the Year, and he was also named to the All-MVC Second Team. Alongside Domask, guard Lance Jones had a great freshman year, averaging 9.3 points and 2.5 assists.  Trent Brown, also a freshman in 2019-20, returns to the rotation after playing in all 32 games.  This year's group of newcomers includes Ben Harvey, a transfer from Eastern Illinois who was a double-digit scorer there in 2018-19. In the post, SIU turns to J.D. Muila and Anthony D'Avanzo.  Muila was rated the No. 24 junior college player in the country while D'Avanzo is a grad transfer from DII Lewis College.  Jakolby Long also joins the SIU program.  He started his career at Iowa State and is a grad transfer from Southern Utah.