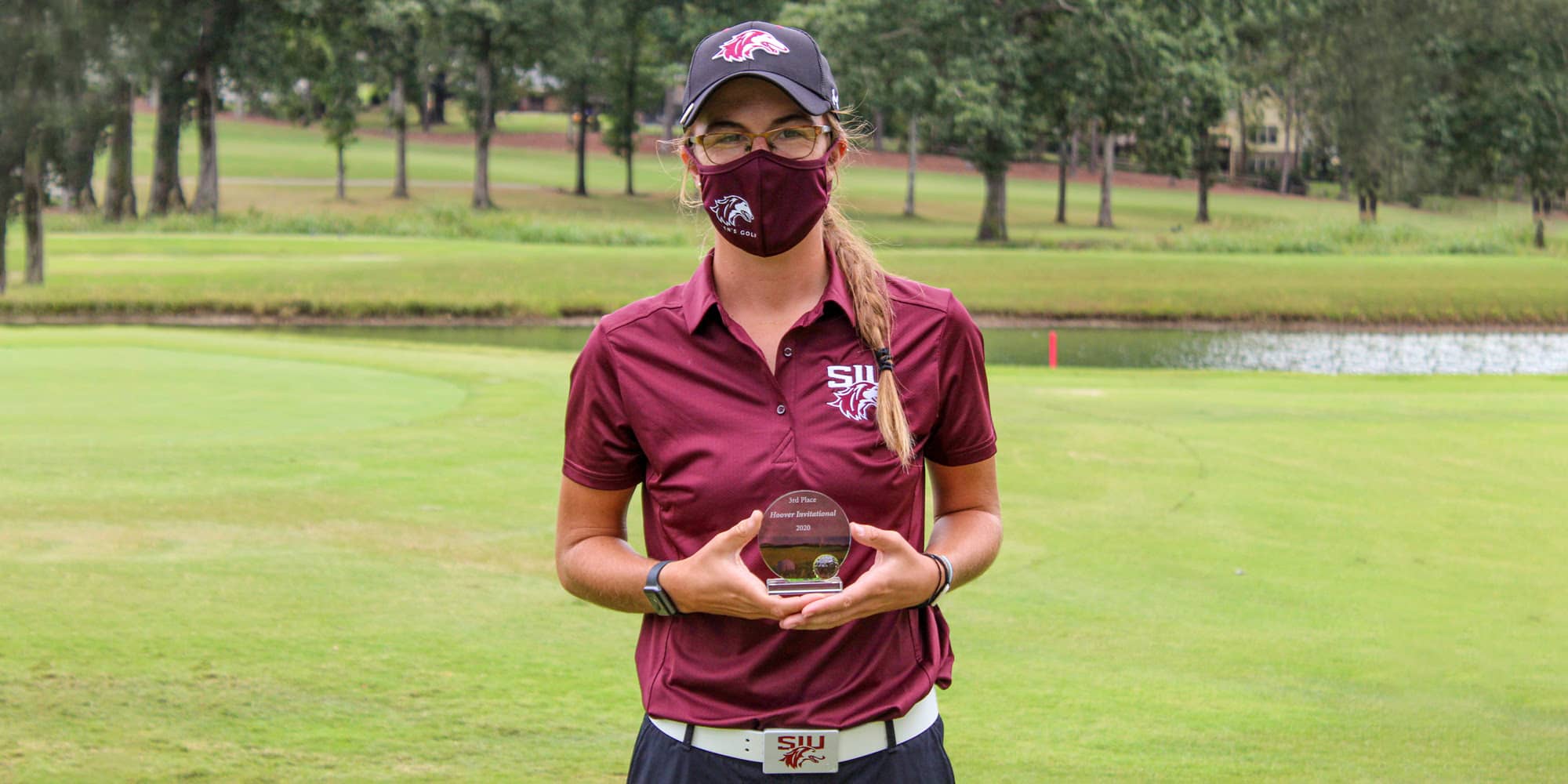 The Salukis finished third at the Hoover Invitational. Southern Illinois (+23) shot back-to-back rounds of 296 on the first day of competition and 295 in the final round to finish with a 54-hole total of 887 at Hoover Country Club in Hoover, Alabama. SIU dropped 41 birdies in competition, the second most in the 11-team field. Western Kentucky (+14) finished runner-up, six-strokes behind Indianapolis (+8) who took home the invitational title.
The Saluki seniors shined for Southern Illinois, all finishing in the top-25. Senior Emilyee McGiles led the Salukis with commanding rounds of 71, 72, and 73 to finish even par, third overall. The 54-hole total of 216 is a career best for McGiles and is tied for the second best 54-hole score in program history.
"Our seniors have been preparing all summer," said SIU head coach Danielle Kaufman. "They were ready to get after it."
Senior Moyea Russell celebrated her birthday on Monday and was equally impressive in the Salukis return to competition, carding a total of 220 to finish tied for 11th overall (+4). Fifth-year Erica Kerr shot her best round in the final day for a total score of 225 (+9) and tied for 23rd overall. Sophomore Ayanna Habeel finished tied for 34th with a score of 230 (+14) and freshman Janie Samattiyadeekul carded 233 (+17) in her debut for SIU, finishing tied for 40th overall. Sophomore Amelia Lawson played as an individual and finished tied for 48th overall with a three round total of 234 (+18).
"The whole team played great," said Kaufman. "For our first tournament back, I'm very pleased with our composure. It was a team effort on all fronts."
Southern Illinois returns to Carbondale, Illinois and will have a few days off before they prepare for the Lady Red Wolves Classic at Arkansas State scheduled for October 12, 2020. All players will be tested for COVID-19 upon their return.
TEAMS
1 Indianapolis 293 294 285 = 872 (+8)
2 Western Kentucky 295 287 296 = 878 (+14)
3 Southern Illinois 296 296 295 = 887 (+23)
T4 Middle Tennessee 306 297 288 = 891 (+27)
T4 UAB 296 299 296 = 891 (+27)
6 ULM 304 294 296 = 894 (+30)
7 Chattanooga 301 294 306 = 901 (+37)
8 Troy 301 298 308 = 907 (+43)
9 South Alabama 308 300 300 = 908 (+44)
10 Little Rock 305 309 301 = 915 (+51)
SIU
3 Emilyee McGiles 71 72 73 = 216 (E)
T11 Moyea Russell 74 70 76 = 220 (+4)
T23 Erica Kerr 75 79 71 = 225 (+9)
T34 Ayanna Habeel 76 75 79 = 230 (+14)
T40 Janie Samattiyadeekul 77 81 75 = 233 (+17)
T48 Amelia Lawson 78 77 79 = 234 (+18) *Individual