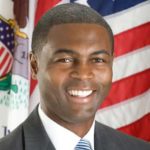 CHICAGO (AP) — The Illinois Legislative Black Caucus is floating an agenda that calls for action on several areas they say are important to its constituents.
The caucus announced Tuesday it is planning a series of legislative committee hearings on criminal justice reform, violence reduction and police accountability; economic access and equity; and health care and human services leading up to the General Assembly's fall veto session.
Chicago Democratic Rep. La Shawn Ford at a news conference said the cries for racial justice that have gone unheard are now getting attention. He added the question has become: Is the Legislature ready to act on what members are hearing?