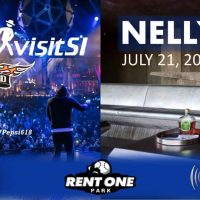 CIL-FM is excited to present Nelly LIVE at Rent One Park on July 21st in conjunction with Pepsi 618, Midwest Music Supply, Black Diamond Harley-Davidson, and visit SI!
Tickets start at just $25 and can be found at Pepsi 618 on social media or by clicking here. Better yet when them for free just for listening to CIL-FM!
Listen to CIL-FM Monday through Friday and when you hear Nelly's "Country Grammar", be caller 10 to win a pair of tickets to the show!